JEET Housewarming | JEET Technology officially moved into the Smart Park.
Share
From

JEET Endoscope
publisher

JEET Videoscope
Issue Time

Jan 25,2021
Summary
Our company is a national high-tech enterprise specializing in the development and production of high-definition industrial endoscopes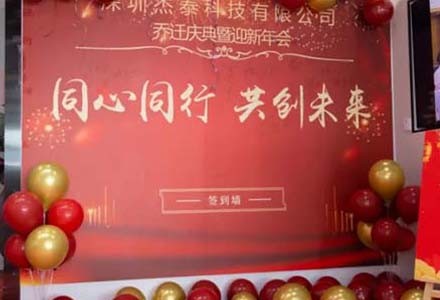 On January 15, 2021, Shenzhen JEET Technology Co., Ltd. officially moved into the Smart Home of Baolong Science and Technology City, and held the "Housewarming Celebration and New Year Party" on the same day. In the environment where the epidemic has not completely disappeared, our company upholds the simple and inconspicuous original intention and invites partners to witness the new journey.

Our company is a national high-tech enterprise specializing in the development and production of high-definition industrial endoscopes, three-dimensional measuring endoscopes, automotive endoscopes, police endoscopes, hole detectors, pipe endoscopes and other endoscopes. , Committed to providing customers with professional endoscopic video detection and automated detection solutions.

Our company has been focusing on the video inspection industry for more than ten years. Through the continuous efforts of the R&D team, we have broken the monopoly of imported products and filled the gap in the domestic 3D measurement endoscope, and successfully developed a high-precision 3D measurement direct view endoscope with high precision Three-dimensional measurement side-viewing endoscope, and high-precision three-dimensional calibration system. The company has also obtained more than ten invention patents and software copyrights, passed ISO9001/14001 system certification, credit rating certification, products have passed CE, ROHS certification, Ministry of Public Security Testing Center certification, reliability test of Saibao laboratory, quality inspection report of special inspection institute Wait.

The housewarming is not only to provide employees with a better office environment, but also symbolizes that our company will take the next step in a brand new environment and start a new journey at the beginning of the New Year in 2021. Under the attention of the guests and all employees, the founding team of JEET and the guests cut the ribbon together.

Tea Break Salon Exhibition Hall Product Exchange

Under the epidemic situation, our company only invites short-distance friends to come. In order to thank friends from all parties for their support and staff partners for their hard work and hard work on weekdays, special guests at the dinner party to welcome the New Year will bring you "inspiration" and " Performances such as Face Changing, Magic, and Priceless Sister.

At the same time, under the witness of the guests, our company commends employees who are particularly prominent in their positions in 2020, and encourages all employees to maintain a good attitude and work hard in a better environment.

The dinner party also prepared a generous lucky draw gift. Whether it is a big screen lottery or a game on stage, I hope that the guests can feel the enthusiasm of JEET.

Shenzhen JEET Technology Co., Ltd. "Walk together to create the future" housewarming celebration and New Year celebration ended successfully. Thanks to all the guests and colleagues for their active participation. I hope Shenzhen JEET Technology Co., Ltd. will be more brilliant in 2021.

The detailed address of Shenzhen JEET Technology Co., Ltd. has been updated to: Unit 906, Building B, Phase 1, Wisdom Home, No. 76, Baohe Avenue, Baolong Street, Longgang District, Shenzhen.